The plight of plus-size travelers has come to the forefront recently as over 7,000 people have signed a petition urging the Federal Aviation Administration (FAA) to require airlines to provide accommodations for plus-size passengers. The petition calls for sensitivity training for TSA employees, the addition of accessible security screening equipment, and for all airlines to implement a "customer-of-size policy." Thirty years ago, Southwest Airlines implemented a customer-of-size policy which now allows plus-size passengers to purchase an extra seat in advance and receive a refund, even if the flight oversells.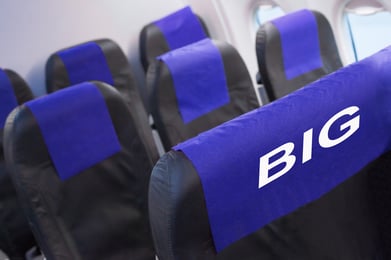 Airline seats have become smaller since the 1990s, with a decrease in seat width from 18 inches to 16 inches and a reduction in the gap between seat backs from 35 inches to less than 28 inches. This is happening at a time when people are becoming bigger in both weight and height. Last fall, the FAA requested comments from the public on minimum seat dimensions.
Travel blogger Jae'lynn Chaney, a plus-size activist, started the petition two weeks ago to call further attention to the difficulty, pain, and vulnerability experienced by plus-sized and disabled travelers. In her many social media posts on topics like flying as a person of size, she says, that plus-size travelers are not asking for special treatment, but rather equal treatment. "They deserve to travel without fear of discrimination and humiliation."
Chaney's videos about plus-size travel have been featured in major news outlets such as USA Today, Insider, and BuzzFeed. Her social media posts have become a battlefield filled with comments from people who are very divided--especially on the issue of free seats.
The Change.org petition also calls for the FAA to mandate that all airplanes have at least one wheelchair-accessible bathroom. The Air Carrier Access Act, enforced by the Department of Transportation, prohibits discrimination on the basis of disability and requires airlines to provide some accommodations. However, U.S law currently only requires twin-aisle aircraft to have a wheelchair-accessible bathroom.
In 2022, the Department of Transportation proposed amending regulations to require that single-aisle airplanes (with more than 125 passenger seats) have a wheelchair-accessible bathroom, but this would only apply to new aircraft ordered or delivered 18-20 years after the final rule's effective date. If the rule is adopted, it will take 45 years for all aircraft to have this fundamental accessibility feature.
Disabled and plus-size passengers frequently struggle on flights without accessible bathrooms, often taking dangerous risks such as avoiding all liquids before and during a flight. Many disabled people insert catheters to avoid the struggle altogether. We can do better for travelers and business owners who depend upon travel consumers. If those consumers stay home rather than experience uncomfortable air travel. Nobody wins.
Important links pertaining to this subject:
Department of Transportation "Airline Passengers with Disabilities Bill of Rights." This bill sets forth the most important right first: "

The Right to Be Treated with Dignity and Respect."

The Air Carriers Act also enforced by the Department of Transportation prohibits discrimination during air travel on the basis of disability and requires carriers to make accommodations.
The FAA's request for public comments on minimum seat dimensions.