The Federal Transit Administration (FTA) recently announced that it will be awarding $686 million in grants to various rail stations throughout the United States as part of the All Stations Accessibility Program. This program is funded by the bipartisan 2021 Infrastructure Law and aims to improve the accessibility of train station stations so everyone, including those who use wheelchairs, push strollers, or cannot easily navigate stairs, can use rail travel resources in their communities.
According to FTA Administrator Nuria Fernandez, there are currently over 900 (of 3,700 total) rail stations in the U.S. that are not accessible, having been built before the Americans with Disabilities Act was enacted in 1990. "We want to ensure people with disabilities and others who need extra assistance are able to use transit systems with the same ease and reliability as any other user," says Fernandez in a press release issued by the Department of Transportation in mid-December.
The first round of grants will go towards improving 28 stations in nine states, including Connecticut, Illinois, Massachusetts, Maryland, New Jersey, New York, Ohio, Pennsylvania, and Washington. Projects include modernizing stations with elevators, ramps, and other enhancements, as well as making subway stations fully accessible. While this funding will only reach a small number of the 900 inaccessible stations, other funding is available for capital improvement projects that can also be applied to accessibility projects.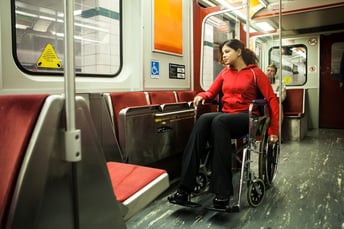 According to the FTA, some of the first stations to receive funding will include:
The New York Metropolitan Transportation Authority will receive $254 million to make four subway stations in Brooklyn and the Bronx fully accessible with the installation of elevators, modified platforms, fare gates, stairs, and handrails.

The Chicago Transit Authority will receive over $118 million to modernize three stations with elevators, ramp upgrades, improved signage, and general enhancements.

The Southeastern Pennsylvania Transportation Authority will receive $56 million to make five subway stations fully accessible with the installation of elevators, general upgrades, ramps, and path of travel improvements.



We will keep you posted as these stations work to improve their accessibility. In the meantime, please review the train stations you frequent on the Friendly Like Me app. Our goal is crowd-source accessibility information and to make that information easier to find--so that more people can take part.